World Ovarian Cancer Day 2021
In its ninth year, the 2021 campaign challenge was not only to engage and increase global ovarian cancer awareness; it was also a call to action for all those committed to improving survival and quality of life for women with ovarian cancer.

The campaign objective for 2021 was to underscore the importance of shortening the time between symptom appearance and diagnosis. With that focus on Rapid Diagnosis to pivot around, The Coalition asked that we find a way to extend the successful Powerful Voices theme of WOCD2020 into 2021. Additionally, we were asked to develop another interactive website that engaged participants to show their support by posting on their personal social media channels and learning more about ovarian cancer. To achieve that, the Coalition needed customizable social media panels, templated posts, and static posts in editable files to allow for translations.
The ultimate goal was a reach of five million – an increase from three million in 2020.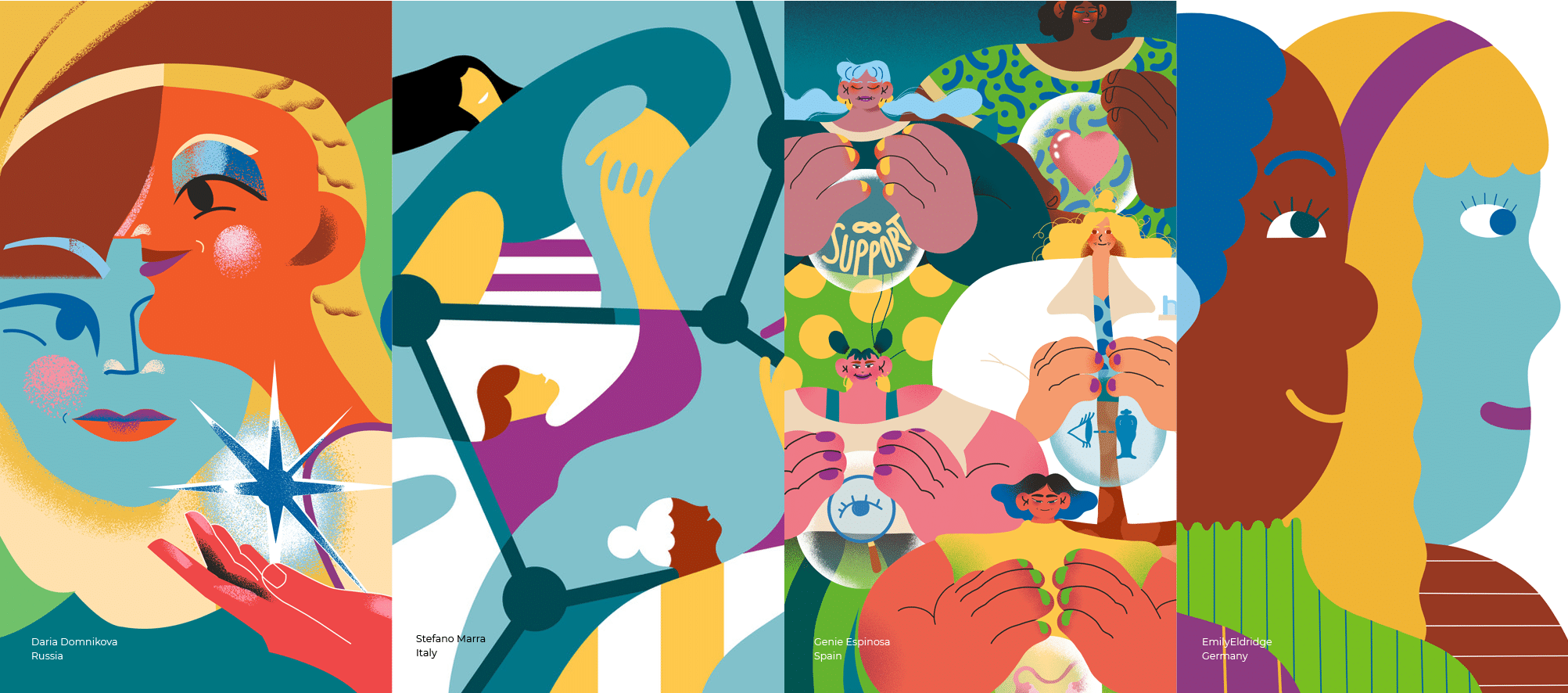 The 2021 campaign revolved around developing a unique interactive microsite. With the focus of the campaign on "Rapid Diagnosis", Haft2 developed the concept of the "Bigger Picture", commissioning four international artists – Daria Domnikova, Stefano Marra, Emily Eldridge, and Genie Espinosa – to tie into and illustrate the Powerful Together theme.

Our campaign included strategic use of teal, the global colour for ovarian cancer awareness, complemented with burgundy, the colour associated with women's gynaecological cancers.

Over the final two weeks of the campaign leading up to May 8th, each time someone visited the microsite or posted about their visit or World Ovarian Cancer Day 2021, pixels (or dots) started to appear, ultimately revealing the 'Bigger Picture' on May 8th – the four illustrations with accompanied by the artist's bio and statement about their piece.
Haft2 also designed a series of social media templates for Facebook, Twitter and Instagram that could be used leading up to and on World Ovarian Cancer Day 2021. We tapped into the growing importance of video content and increased our number of video posts. A series of templates for partner organizations allowed for translations in up to 23 different languages; the templates ensured maintained integrity of the overall look and feel of the campaign.
In addition to the microsite, Haft2 created a DIY Post Generator on the WOCC website. Supporters could choose from a variety of copy and images or create their own based on the template provided. The toolkit encouraged the public to post on-brand content more easily to their own social networks, which meant increased activity and broader reach.
The results for an organic, no-paid-support social media campaign were incredible – even with our high hopes, we were astonished. WOCD2020 had a reach of just over three million. The WOCD2021 awareness campaign was a watershed moment reaching over 18 million people, with supporters from 45 different countries taking part in 41 different languages.
Part of the success was due to how we improved the ease with which our partners and supporters could post on-brand content. The DIY Post Generator allowed more of our network to easily engage with the campaign and allowed 83% of our partners to post content about WOCD on at least one of their social channels. Additionally, increasing video content and combining it with modest ad spend, we were able to spread our reach more evenly over our key messages and received an average of 240,000 views per post.