The Labour of Love program at Mount Sinai Hospital in Toronto is a way for families to commemorate and celebrate the birth of their child while giving back to the hospital. For many years, the Labour of Love program was located within the Labour & Delivery ward, providing high-level visibility to new parents and family members. When the new Women's and Infants' units opened in 2015, the physical location of the program needed to be moved and participation in the program started to decline.
With over 7,000 births annually at Mount Sinai, the Labour of Love program provides a great opportunity to bring in new generations of supporters to the hospital. Haft2 was engaged to reimagine the look and visual identity of the program, with a goal to ultimately increase awareness of the program and increase the number of donors.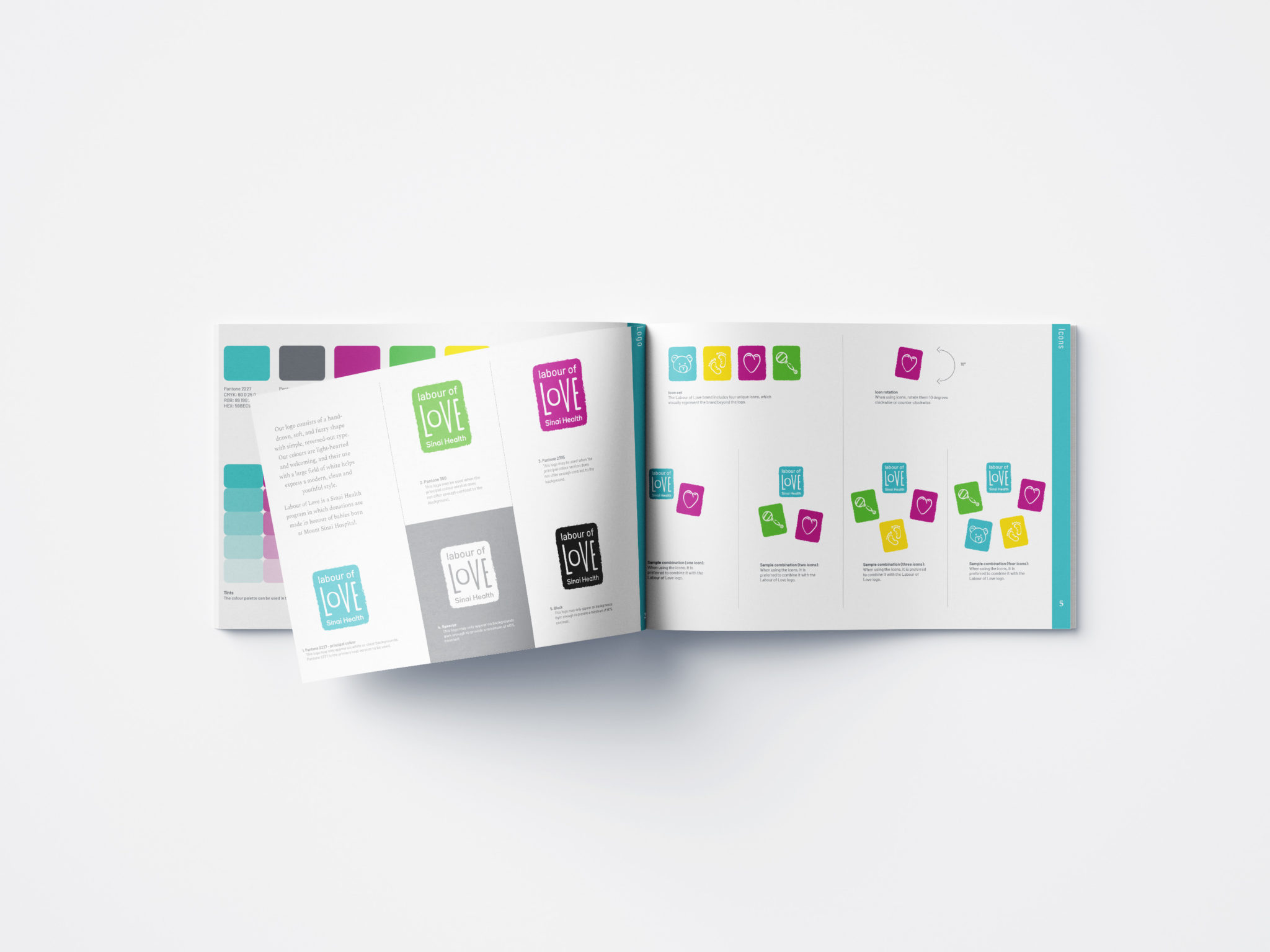 While developing the new program identity, Haft2 considered the target audience of new parents and families who would donate in honour of their new-born child. The program identity, therefore, was meant to inspire a friendly, warm, and welcoming feeling. Haft2 created a hand-drawn, soft, fuzzy logo with simple reversed-out type. Using the supporting icons of a heart, rattle and footprints, based on the idea of baby blocks, the visual language of the program came together beautifully. Our colour palette was in light-hearted and welcoming tones of blue, yellow, and green to create a gender-neutral yet modern, clean, and youthful style.
Haft2 designed elevator wraps to bring the program to life throughout the hospital, with photography focused on parents and babies in natural light for a candid, authentic feel. Additionally, we worked with the team at Mount Sinai Hospital to design a teddy bear, "Eiko", which families receive with every donation. The adorable bear Eiko is named after the first baby in Canada who underwent surgery to repair a form of spina bifida in utero at just 25 weeks. Haft2 also designed onesies and a bib that sold in the retail gift shop.
The Labour of Love program at Mount Sinai Hospital Toronto continues to be an important and successful fundraising initiative for the hospital. The program still uses the branding Haft2 developed, and the program has grown in recent years, with a new gift-matching program introduced.