The Grateful Hearts program at Sinai Health Systems provides a special way for patients to express their gratitude for the outstanding care they or a loved one has received at Mount Sinai Hospital. Patients can donate in honour of a doctor, nurse, hospital staff or care team member and in turn, the recipient receives a letter of recognition and commemorative pin.
Haft2 was engaged to update the program identity for this unique fundraising and recognition program. We were tasked with designing a new logo, corresponding visual language, and guidelines on how to use the new identity in artwork. Ultimately, the goal of the refresh was to increase the number of donors to the program while engaging and providing recognition to hospital staff.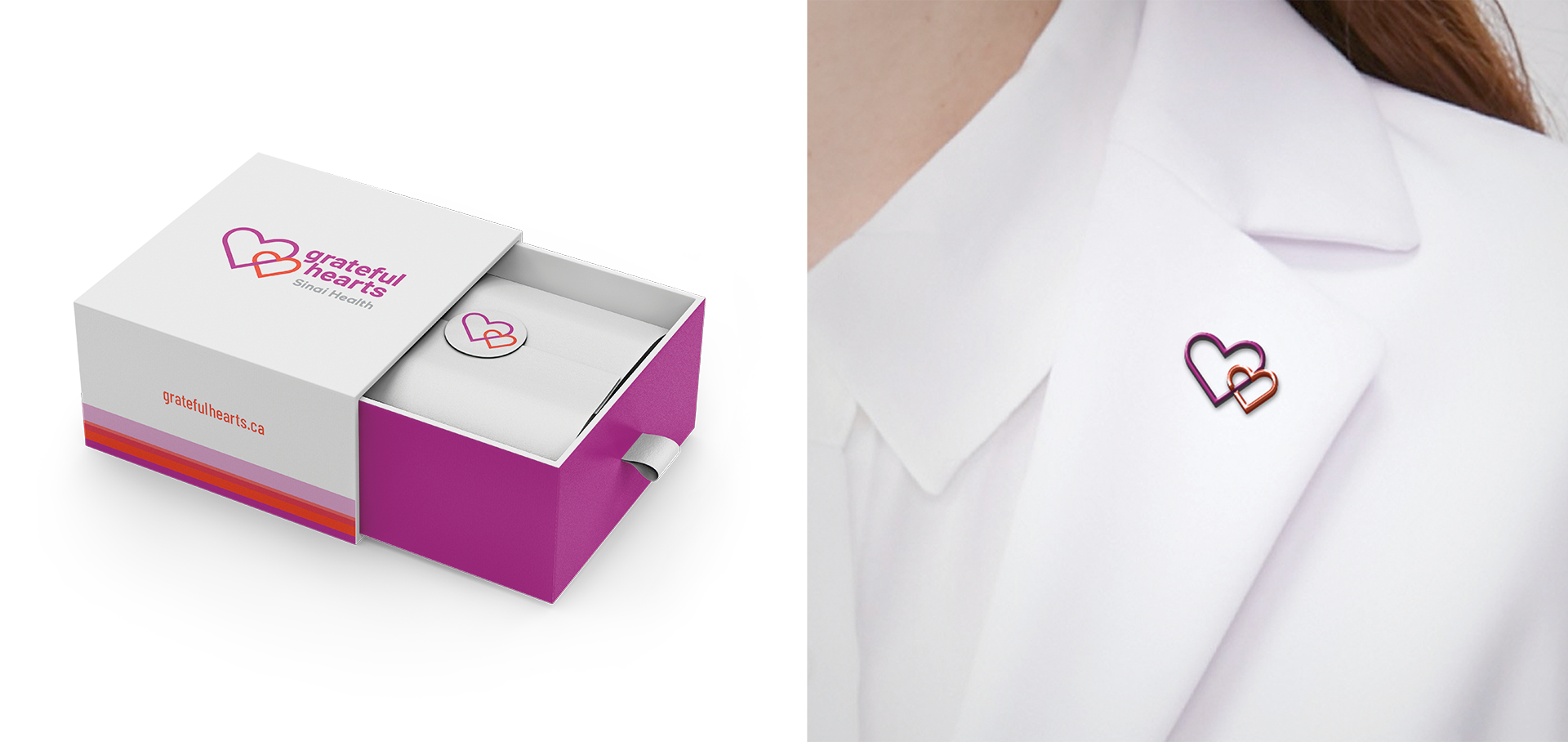 To represent grateful patients and deserving caregivers, Haft2 designed a logo consisting of two linked hearts. As always, colour selection was paramount. Purples and reds show warmth and compassion, and we placed those colours on a large field of white to express a modern, clean style.
For the visual language, it was imperative to have original patient-focused photography. We managed patient photoshoots and worked with patients to help tell their real stories of gratitude. The style guide we developed outlined how to create the look for this program and future campaigns as well, describing the specifics of fonts, photography, and colour.
The colour palette for Grateful Hearts reflected the warmth and friendliness of the program using purple and red tones, while retaining ample white space kept the feeling fresh and modern.
The commemorative pin, a cornerstone of the program, was also updated to reflect the new program identity.
The Grateful Hearts program is still a successful initiative at Mount Sinai Hospital today. Elevator wraps still promote the program in highly visible areas of the hospital and engagement for the program remains high.