As a longstanding agency partner of the World Ovarian Cancer Coalition, Haft2 was engaged to develop a strategic digital campaign for World Ovarian Cancer Day 2022.

The annual day to raise awareness for ovarian cancer, which takes place each year on May 8th, marked its 10th year in 2022. Haft2 faced the challenge of creating a creative campaign concept that aligned with the theme of No Woman Left Behind developed by the Coalition team that wouldn't just work for 2022 – but could also be expanded and utilized for multiple, future years.

In addition, the Coalition works with close to 200 patient advocacy organizations around the world, and it's these local partners who execute and drive the digital campaign for World Ovarian Cancer Day. To maximize the success and impact of the campaign, Haft2 needed to provide a robust, easy-to-customize toolkit and assets that would allow the creative to be adapted and translated.
Haft2 developed the "No Woman Left Behind" creative concept to align with the Coalition's vision of creating a powerful global network of partners and supporters who are raising awareness to prevent and detect ovarian cancer. The theme worked in multiple languages and, with a 50% growth over the results from 2021, proved it resonated with the target audience of primarily females between 35–65 years of age. This theme and creative execution also provided the ability to extend over a number of years and connected closely with the Coalition's other key initiatives, such as the Every Woman Study.TM: Low-and-Middle-Income Edition
The visual language and creative articulation of "No Woman Left Behind" was of equal importance. Haft2 took inspiration from the "speech bubble" icon, as a nod to the power of a woman's voice and incorporated that motif within the visual language; additionally, we used typographic movement in the wordmark and colours to reflect the inclusivity and diversity of all women.
Haft2 designed and produced several creative assets for the campaign's toolkit, such as social posts, posters and to be adapted by the Coalition for their partners to use within their own digital campaigns– but most importantly, Haft2 enhanced the online "DIY Generator" platform, originally built for the Coalition by Haft2 in 2021, that allowed those organizations to very easily customize those assets for both social and print. The platform was a user-generated content builder, built on the Coalition's WordPress site, that through a series of steps allowed for customization for the supporters themselves. They were able to first choose their layout – poster or social post – select from a series of messages or create their own, as well as customize who they don't want to leave behind, for example, No Sister, No Friend, No Daughter Left Behind. Next, they were allowed to choose from a selection of images or load up their own and the final step: to download their image or poster and share to their networks!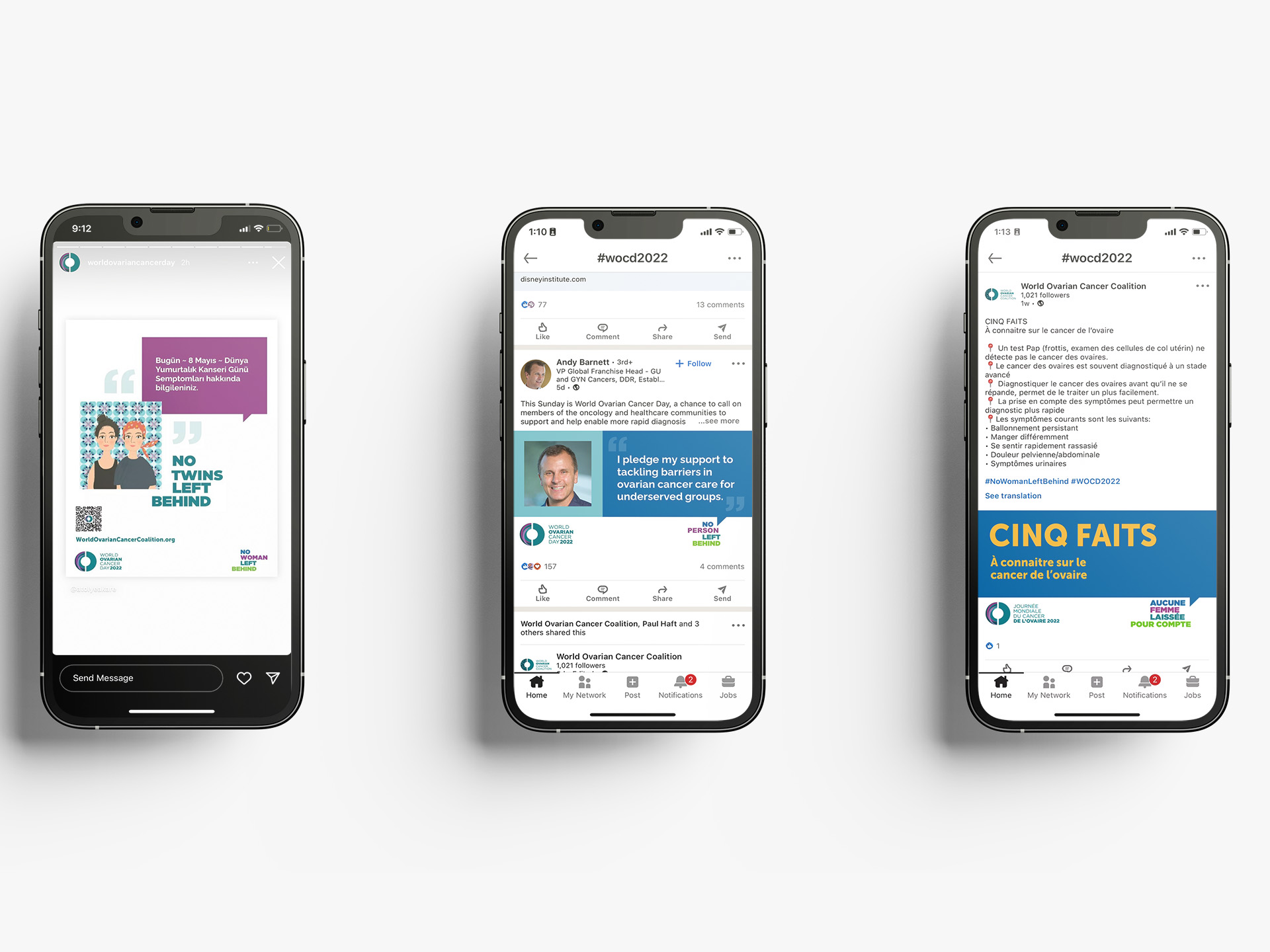 World Ovarian Cancer Day 2022 was an overwhelming success.
World Ovarian Cancer Coalition estimates that with the support of their partner organizations and corporate supporters, the online reach was well over 100 million. 
The campaign's theme and visual language of "No Woman Left Behind" was used again in 2023 to even greater success, reaching over 192 million people worldwide.
% GROWTH OVER PREVIOUS YEAR