Haft2 was engaged by the Estate Giving Team at the UHN Foundation to develop a new creative approach and refresh the Planned Giving program. It was important that the Legacy proposition be aspirational, embracing the idea of improving the future through actions individuals can take today. The campaign needed to stand apart from competing charities and dispel myths about barriers to giving and the need for gifts of all sizes.
The campaign also needed to be developed for a five+ years longevity, something that could be updated throughout the length of the campaign and yet stay fresh and relevant.
Haft2, working with UHN Foundation, approached individuals who either already included or were considering including UHN in their wills. We interviewed them to understand their reasoning, what the barriers were to creating a will and how UHN Foundation could help as an advisor, providing information and resources.
To appeal to a wide audience and reach groups who previously may not have considered Planned Giving, Haft2 used accessible language, defying the perception that leaving a gift in your will is only for the wealthy. This research led us to create the tagline: A small thing you do now could be the start of something big.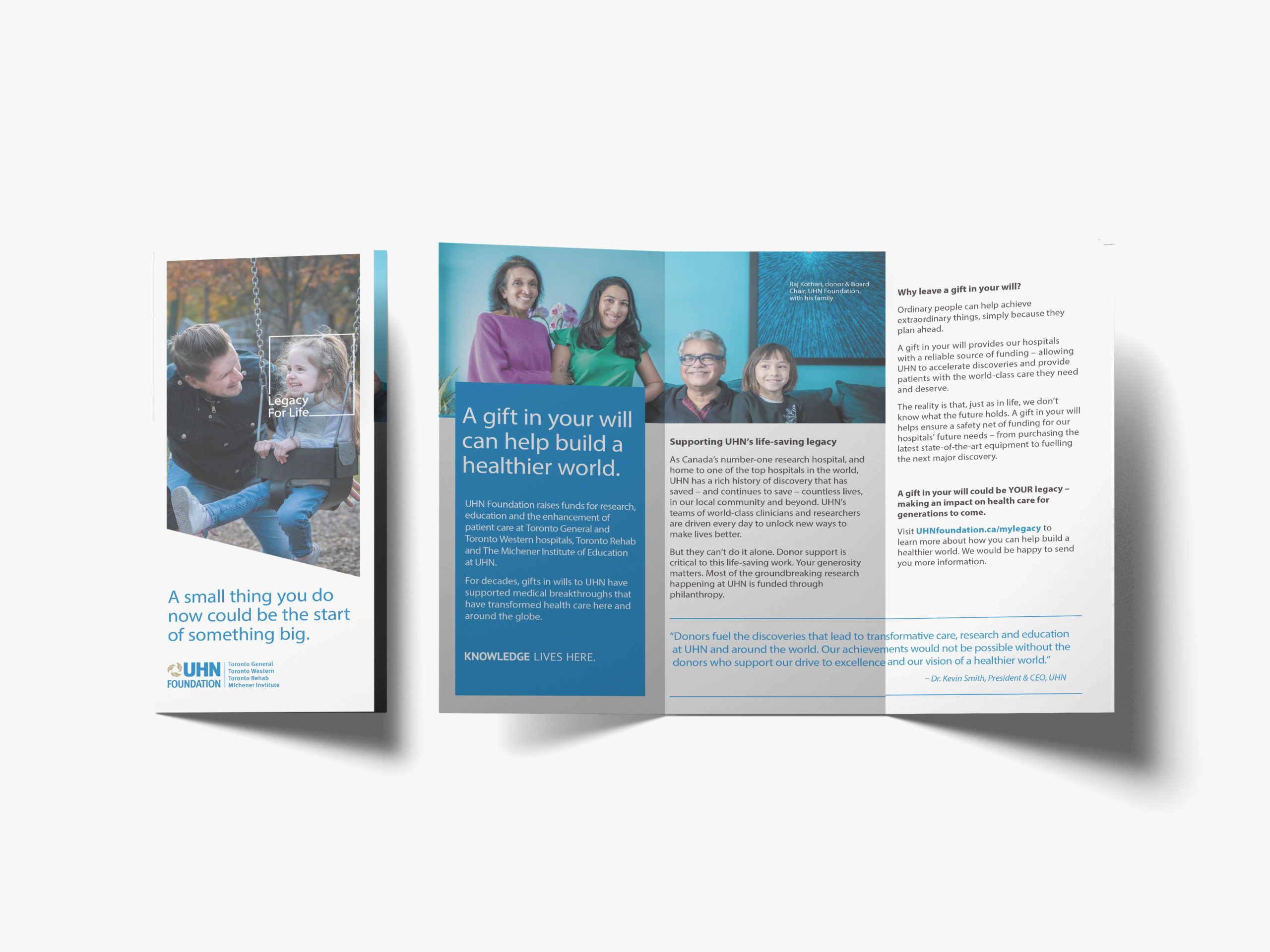 To make the difficult subject of Planned Giving easier to talk about, we developed a campaign that featured real people talking about why they had included or are considering including UHN in their wills. Haft2 enlisted world renown photographer Christopher Wahl and videographer Paul McNulty to capture real UHN supporters to tell their stories. The integrated campaign featured a redesign of the Legacy for Life logo, four video testimonials for social and web, print ads, and marketing materials, including brochures and direct mail. A series of environmental graphics were designed and applied to elevators and posters throughout all UHN hospitals.
The campaign first ran for a period of three weeks in spring 2021. Overall, the introduction of the legacy videos to the wider community was a great success. From a fundraising and donor engagement perspective, the Foundation has seen a marked increase in donor activity and estate-giving inquiries since launching these new marketing materials.
% INCREASE ENGAGEMENT ON LINKEDIN AND FACEBOOK
% HIGHER ENGAGEMENT ACROSS ALL OTHER UHN FOUNDATION SOCIAL POSTS