University Health Network (UHN) is home to global experts in a wide range of health areas, including cardiovascular, transplant, brain, vision, arthritis, diabetes, stem cells, surgery, and more. Part of UHN, UHN Foundation raises funds for research, education and the enhancement of patient care at Toronto General and Toronto Western hospitals, Toronto Rehab, and The Michener Institute of Education at UHN. Together with their donors, the Foundation helps UHN pursue the knowledge that makes all our lives better.
In the midst of the COVID pandemic, the Foundation sought new fundraising techniques in a world gone suddenly virtual. The Foundation's idea for the event centred around sponsoring participants standing 12 hours on their feet, like the typical 12-hour shift of a healthcare worker, over the period of a weekend. The Foundation engaged Haft2 to develop the event name, visual identity, and integrated campaign assets.
The purpose of this first-of-its-kind, peer-to-peer virtual fundraising event was to raise funds in support of UHN's healthcare heroes – a way for people to say thank you and show support for beleaguered staff. The project goals were to raise awareness and funds. Given that the idea was new, the financial goals were not set too high, but hopes were for a minimum of $50,000.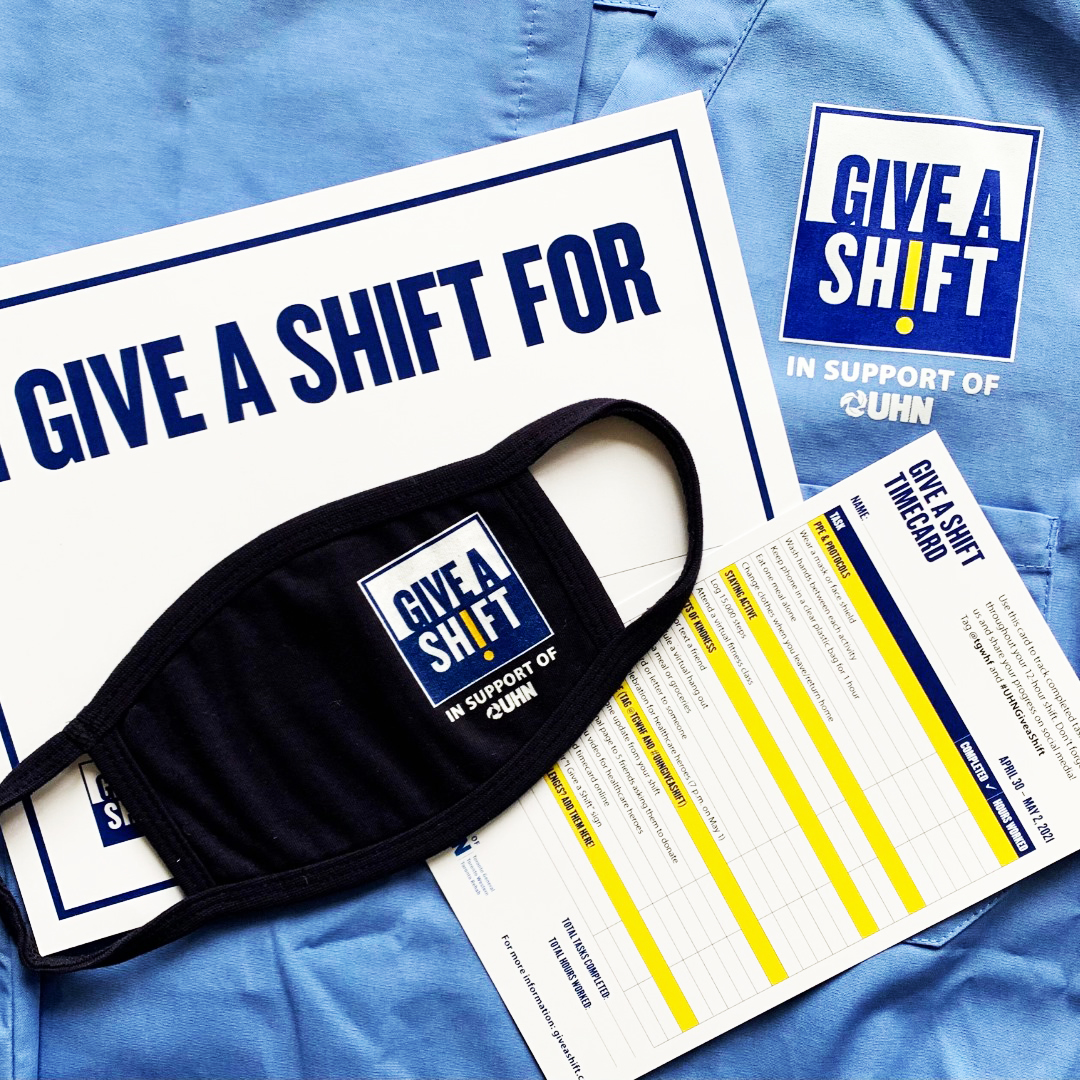 Gift a Shift brought fun innuendo to bleakness. Audacious and simple, it cut to the heart of the issues plaguing hospitals. Its short URL and hashtaggable campaign name tied perfectly into the length of time one participates in the event (12 hours), similar to the length of a healthcare worker's shift. Perhaps best of all, it incorporated the call to action: "Give".
The logo design, visual language and creative for the campaign continued with that bold approach with large type, high-contrast colours and vivid photography. As the staff in hospitals worked around the clock, the Give a Shift logo colours echoed day and night. Bright yellow – Pantone's colour of the year for 2021 – punctuated the dark-blue logo figuratively and literally: The "i" in "Shift" popped beautifully as a bright-yellow exclamation point.
The integrated campaign included a website takeover on the Weather Channel, a series of social media posts and the main animated Give a Shift clock gif. Original photography of UHN healthcare workers, photographed by Toronto General's own Dr. Dawn Lim, was used for both paid media (print and digital ads) and organic social. Haft2 also created a toolkit of visual assets for internal and external use.

Even celebrity Eugene Levy from Schitt's Creek got into the action and supported the event with a promotional video.
When each participant registered and downloaded a fundraising kit that included a list of activities, a card to record their activities standing on their feet for 12 hours (over the period of a weekend) and a poster to write in who they were giving a shift for. Those who raised higher amounts received a Give a Shift branded facemask and hospital scrubs to wear during the event.
Participants were asked to take photos and videos and post on Instagram and Facebook platforms.
The event was held April 30–May 02, 2021 and in one sentence, it went beyond all expectations. Canadians do really Give a Shift. Registration, sponsorship, PR and news coverage exceeded all expectations. Participants, healthcare workers, donors, foundation staff all flooded social media with photos, videos and thank-you messages throughout the event.
HOURS OF AVG SHIFT FOR A HEALTHCARE WORKER
HOURS OF AVG SHIFT FOR A HEALTHCARE WORKER